AnjrahWeb.com – Kalau kita bicara facebook ads, tak lepas dari ads copynya, targeting, dan gambarnya. Nah sekarang kita bahas Cara Targeting Facebook Ads. Kebetulan tadi mas bejo paijo sharekan artikel dari washingtonpost. com mengenai apa saja yang bisa kita target kategori di facebook.
Nah, ternyata kalau kita cek ulang, facebook demikian kaya. Seharusnya kalau kita bisa benar benar memanfaatkan semua ini, pemasaran produk kita menggunakan facebook jadi jauh jauh tertarget.  Maka, mari kita cermati ulang agar kita bisa mendapatkan banyak manfaatnya.
Saya coba terjemahkan, kalau yang belum saya terjemahkan, saya belum nemu istilah indonesianya yang pas. Temen temen boleh bantu dengan sebutkan di kolom komentar ya.
Targeting options for Facebook advertisers*
1. Location – Lokasi dimana saja? Berapa Kilometer dari kota tertentu? Pengecualian lokasi tertentu.
2. Age – Umur berapa sampai berapa?
3. Generation
4. Gender – Laki laki atau perempuan
5. Language – bahasa
6. Education level – tingkatan pendidikan
7. Field of study – fakultas apa
8. School – sekolah dimana? sekolah apa?
9. Ethnic affinity – kesukuaannya
10. Income and net worth – estimasi penghasilan / income
11. Home ownership and type – status rumah
12. Home value – estimasi valuasi harga rumahnya
13. Property size – ukuran rumahnya
14. Square footage of home
15. Year home was built – kapan rumahmu dibangun
16. Household composition – komposisi anggota keluarga? (ini sy ragu artinya apa hehe)
17. Users who have an anniversary within 30 days – orang yang bakal merayakan ulang tahu / perayaan lain dalam 30 hari
18. Users who are away from family or hometown – merantaukah?
19. Users who are friends with someone who has an anniversary, is newly married or engaged, recently moved, or has an upcoming birthday – teman temannya si nomor 17
20. Users in long-distance relationships – orang yang LDR-an
21. Users in new relationships – barusan jadian
22. Users who have new jobs – barusan dapat kerjaan
23. Users who are newly engaged – barusan tunangan
24. Users who are newly married – barusan menikah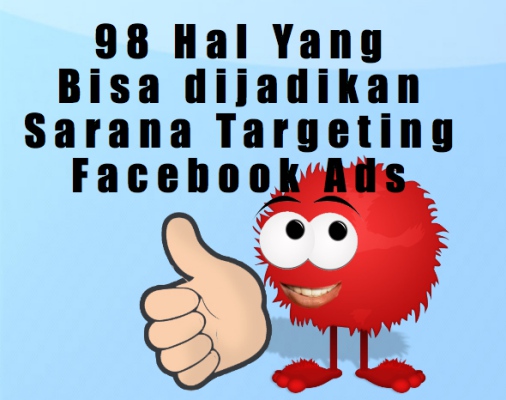 25. Users who have recently moved – barusan pindah? pindahan?
26. Users who have birthdays soon – dah mau ultah
27. Parents – status orang tua, anaknya usia berapa
28. Expectant parents
29. Mothers, divided by "type" (soccer, trendy, etc.)
30. Users who are likely to engage in politics – suka dunia politik
31. Conservatives and liberals – ini partai di amerika
32. Relationship status – status hubungan anda, cerai, menikah, single
33. Employer – karyawan di
34. Industry – industri mu bergerak bidang apa
35. Job title – jabatan di kantor
36. Office type – tipe kantormu
37. Interests – kesukaan / hobby
38. Users who own motorcycles – apa dia punya motor?
39. Users who plan to buy a car (and what kind/brand of car, and how soon) – rencana beli motor, mobil, merek apa?
40. Users who bought auto parts or accessories recently – user yang barusan beli aksesoris atau sparepart tertentu
41. Users who are likely to need auto parts or services – user facebook yang nampaknya butuh sparepart mobil / jasa servis mobil merek tertentu
42. Style and brand of car you drive – merek mobil yang kamu kendarai
43. Year car was bought – tahun kapan kamu membeli mobil
44. Age of car – usia mobilmu
45. How much money user is likely to spend on next car – estimasi uang berapa yang bakal si user facebook ini bakal keluarkan buat mobil impiannya yang lain?
46. Where user is likely to buy next car – dimana mereka kira kira mau beli mobil
47. How many employees your company has – berapa karyawan kantormu / tempat kerjamu
48. Users who own small businesses – user facebook yang punya bisnis kecil / UKM lah
49. Users who work in management or are executives – user facebook yang pangkatnya di area manajemen / eksekutif perusahaan
50. Users who have donated to charity (divided by type) – user yang biasa berderma / sedekah / infaq
51. Operating system – operating sistem komputer / laptop / netbookmu windows, mac, linux dll
52. Users who play canvas games
53. Users who own a gaming console – punya video game di rumah?
54. Users who have created a Facebook event – orang yang bikin facebook event
55. Users who have used Facebook Payments – udah pernah memakai fitur pembayaran facebook (utk facebook ads / game mungkin)
56. Users who have spent more than average on Facebook Payments – pengguna facebook yang rata rata habiskan uang buat facebook sekitar
57. Users who administer a Facebook page – user facebook yang dia jadi admin fanspage
58. Users who have recently uploaded photos to Facebook – orang orang yang baru saja upload foto ke facebook
59. Internet browser – browser internet dia apaan
60. Email service – layanan email yang dia pakai apaan?
61. Early/late adopters of technology – newbie dalam dunia teknologi / pemakai pemula
62. Expats (divided by what country they are from originally) – londo dari mana?
63. Users who belong to a credit union, national bank or regional bank – kayaknya cuma ada diamerika nih topiknya dia punya credit di bank berapa dlll
64. Users who investor (divided by investment type) – orang yang berinvestasi di
65. Number of credit lines
66. Users who are active credit card users – pengguna kartu kredit aktif kah?
67. Credit card type – tipe kartu kreditnya?
68. Users who have a debit card – orang yang punya kartu ATM apa
69. Users who carry a balance on their credit card – waakakaka orang yang kartu kreditnya jelas ada isinya
70. Users who listen to the radio – pendengar radio apa?
71. Preference in TV shows – acara tv yang dia suka ?
72. Users who use a mobile device (divided by what brand they use) – merek Hp yang dia pakai?
73. Internet connection type – koneksi internet pakai apa? 3g ? 4g? wifi?
74. Users who recently acquired a smartphone or tablet – orang barusan beli smartphone / tablet merek?
75. Users who access the Internet through a smartphone or tablet – orang yang bisa buka internet melalui HP / tablet?
76. Users who use coupons – orang yang biasa memakai kupon
77. Types of clothing user's household buys – tipe pakaian yang biasa dia beli?
78. Time of year user's household shops most – frekuensi dia berbelanja barang kebutuhan sehari hari dalam setahun?
79. Users who are "heavy" buyers of beer, wine or spirits – apa dia pembeli bir dll
80. Users who buy groceries (and what kinds) – biasa beli grosir apa?
81. Users who buy beauty products – apa produk kecantikan yang biasa dia beli?
82. Users who buy allergy medications, cough/cold medications, pain relief products, and over-the-counter meds – orang yang punya alergi pada?
83. Users who spend money on household products – user yang habiskan uang buat kebutuhan sehari hari?
84. Users who spend money on products for kids or pets, and what kinds of pets – user yang habiskan uang buat hewan piaraannya?
85. Users whose household makes more purchases than is average – user yang belanja kebutuhan sehari hari lebih dari biasanya
86. Users who tend to shop online (or off) – user yang lebih suka belanja online daripada offline / lebih suka offline dari pada online
87. Types of restaurants user eats at – tipe restoran tempat dia makan?
88. Kinds of stores user shops at – tipe toko yang dia senang buat belanja?
89. Users who are "receptive" to offers from companies offering online auto insurance, higher education or mortgages, and prepaid debit cards/satellite TV – orang yang cenderung menerima dengan baik tawaran dari asuransi, pendidikan, lelang rumah, tv satelit dll
90. Length of time user has lived in house – berapa lama dia tinggal disebuah rumah
91. Users who are likely to move soon – orang yang rencana mau pindahan?
92. Users who are interested in the Olympics, fall football, cricket or Ramadan – orang yang peduli sama dunia olimpiade, bal balan, romadhon dll
93. Users who travel frequently, for work or pleasure – orang seneng traveling
94. Users who commute to work – pakai kereta rutin / commuter buat berangkar kerja
95. Types of vacations user tends to go on – tipe piknik yang dia suka
96. Users who recently returned from a trip – orang yang habis pulang bepergian
97. Users who recently used a travel app – orang yang barusan pakai aplikasi piknik tertentu
98. Users who participate in a timeshare – orang yang aktif dalam penggunaan menu timeshare facebook
Catatan, Agar muncul opsi opsi yang ada di atas, anda disarankan pakai facebook dengan language bahasa inggris ya :).
Bagaimana Cara Melakukan Targetting Yang Benar?
Nah, intinya Keren bangetkan. Kalau temen temen sudah biasa memasarkan menggunakan facebook Ads, tentu inspirasi data yang ada di atas sangat membantu. Selama ini mungkin kita terlalu sederhana dalam mempergunakan menu menu yang ada dalam dashboard iklan facebook. 🙂 … Mantap ya?
Lalu, bagaimana cara menarget iklan facebook dengan data di atas? ringkasnya sih, ya tinggal kita pergunakan power editor, atau di kolom targeting facebook kita masukan saja kata kata itu di atas. Kalau yang sudah ada menunya tinggal di pilih. Seperti location, kan tinggal memasukan lokasi mana aja yang mau ditarget iklan :). Gtu…
Mengenai bagaimana Penggunaannya dan meramunya untuk bisa jadi iklan yang powerfull, simak nanti aja tanggalnya di Workshop Private Facebook Ads bersama AnjrahWeb. Infonya akses di web PCGUPCLASS ya.